Every week 11 million items of clothing end up in landfill. Fast fashion is unsustainable – filling up our landfill, polluting or waterways and putting pressure on those who make our clothes under unacceptable conditions.
But don't worry there's something you can do to help. Join Second Hand September and pledge to stop buying new clothes for 30 days. As it's also Zero Waste Week, it's a perfect time to start.
Perhaps you need some more convincing? Well, here are a few facts about the impacts of fast fashion:
Buying one white cotton shirt produces the same amount of emissions as driving 35 miles in a car.
2. The carbon footprint of the new clothes bought in the UK every minute is greater than driving a car around the world six times – and that's just one country!
3. It takes approximately 7000 litres of water to grow enough cotton to produce just one pair jeans.
4. In the UK 300,000 tonnes of used clothing goes to landfill each year. In North America this figure is 9.5 million tonnes.
5. The majority of garment workers in Bangladesh earn little more than the minimum wage, set at 3,000 taka a month (approximately £25), far below what is considered a living wage, calculated at 5,000 taka a month (approximately £45), which would be the minimum required to provide a family with shelter, food and education.  (War Against Want).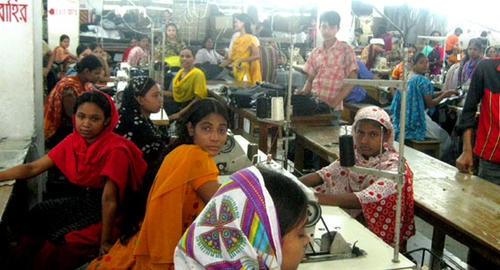 These few statistics are just a drop in the ocean compared to the actual effects – and I could write a much longer post. However, it should be enough to make you realise that we all need to make changes. We can't continue on this scale of waste and destruction.
So please, consider taking the pledge to stop buying new clothes for 30 days. Oxfam offers some fantastic second hand clothes online and in their charity shops. And there are lots of other wonderful places to buy second hand, including vintage stores. You'll love the adventure of trawling for gems in charity shops, and you might find you are reluctant to go back to your old ways of purchasing afterwards.
I've taken the pledge – I mostly buy second hand anyway, and some of my favourite clothes have been found in the least expected shops. Pictured below is one my loveliest dresses, just a few pounds from a charity shop.
Oxfam are offering some great prizes for anyone taking part. Simply…
Share a photo of your best second hand find or upcycle on either Twitter or Instagram
Use the hashtag #SecondHandSeptember
Tag @OxfamGB in the caption
So good luck with Second Hand September. I'd love to hear how you get on.
Thanks for reading!